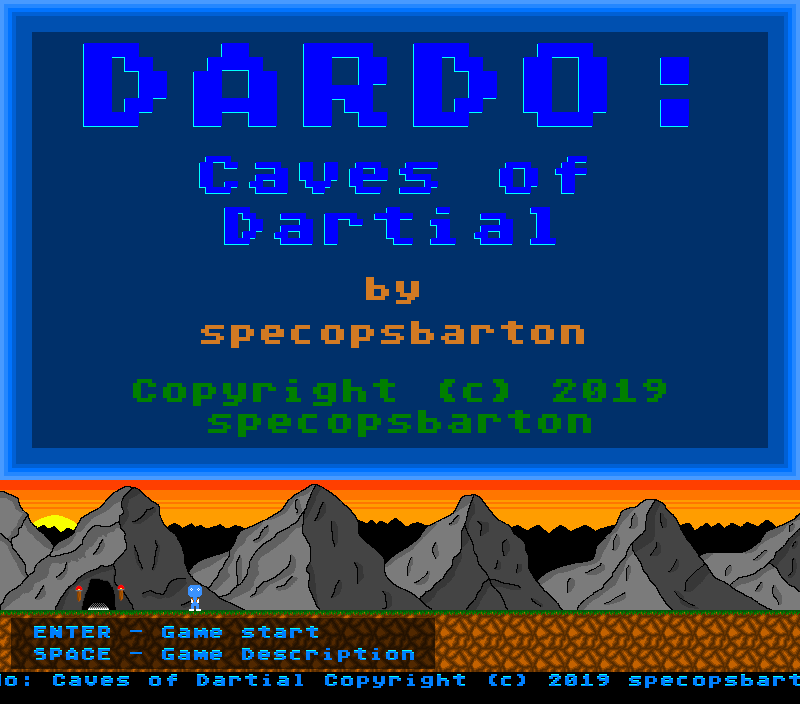 Dardo: Caves of Dartial
A downloadable game for Windows
Dardo Caves of Dartial is an logic-adventure game I started to make very long ago, inspired by old games from Atari 65XE such as Robbo, Boulder Dash.

Long ago, some powerful sorcerer hide his treasures from raiders in mysterious caves of Dartial. Many tried to get them, but no one was able because on caves persist powerful spell which disables entering lower caves without earlier gaining all magic gems. Dardo decided to visit them, and see what he can find.
To finish a cave you must collect all gems and enter "doors". During your adventure you will encounter many objects with different abilities. Dardo have a magical pickaxe that work different depending on object or can warn you if invisible traps or other danger is near.

Why no videos of game on my site? Because they make a spoilers about game even at first level. You can find some videos on my youtube channel, but they are very outdated.

MAIN FEATURES:
- Inspired by old retro games such as Robbo and Boulder Dash from Atari 65 XE, but with many own unique elements;
- Rogue like play style - you have only few lives, can get more during adventure but there is no saving, so when you will have no more lives, game is over and you need to play from beginning;
- Many mysterious objects - there is only description of few basic objects, how other work you need to find out on your own;
- Unique difficulty - every cave have it's own difficulty, some will be easy and some will be a real challenge for you to finish;
- No background music - it will be easier to think logic how to finish a cave without music;
- No timer or time limit - you can think calmly without hurry;
- DRM Free - after buying just download and play;
- Try before you buy - you can try free demo with 6 caves before you buy full game.

Requirements:
System: Windows 7+
RAM: 200 MB
Input: Keyboard

We can talk about my game on my Discord server here:
https://discord.gg/Kh8EN4s

Made in Poland, by only one developer.

Purchase
In order to download this game you must purchase it at or above the minimum price of 3.60€ EUR. You will get access to the following files:
Dardo Jaskinie Dartial.exe
12 MB
Download demo